Are you in a rut? Don't feel like cooking? Cooking at home is healthier and costs less than eating out. Here are 4 Reasons You Don't Feel Like Cooking Tonight (and What to Do About It).
You don't know what to cook
Have three to five go-to recipes they can make almost on autopilot. These are the recipes that take very little time, energy, and brain space to make. They might not even be recipes, per se — think scrambled eggs on toast, veggies and hummus, a piece of grilled chicken and a lightly dressed salad. (For me, it's tacos. I take tortillas, then fill them with whatever motley assortment of toppings I can cull from the fridge and pantry.)
There's nothing to eat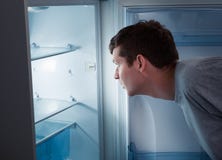 Stock your pantry and freezer, so you always have the staples to create quick and healthy meals. There's nothing wrong with occasionally using frozen veggies and meats to make eating healthy easier. Get some frozen stir fry mixes and serve over quinoa or rice. Pantry meals can be great for the budget too!
U
tilize your freezer
When you do feel like cooking, make double and freeze the extra! Have leftovers – freeze them to eat another time. You don't need to freeze entire meals. Almost all fruits, veggies, and meats can be frozen. Breads and baked goods can be frozen and then heated in the oven to taste just fresh baked. And there are tons of books and websites featuring easy to make freezer meals that are healthy and budget friendly.
Meal planning makes it easier
Knowing what's for dinner and having some elements ready in advance can save your sanity when you're rushed for time or low on energy. Create a loose weekly menu (or just for a few days) to save you time with grocery shopping and have everything at hand on weeknights. Prepare on the weekends by cutting up your vegetables and store them in the refrigerator until later use, roast a chicken and use its parts in multiple ways during the week or even prep multiple meals ahead of time.